The Socio-economics of Diaspora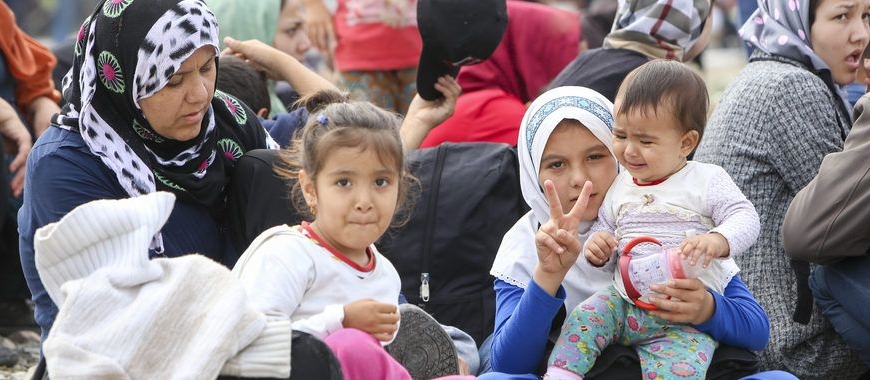 Originally Published: https://madamasr.com/en/2015/11/22/feature/society/the-socio-economics-of-diaspora/
The majority of Syrian refugees registered with UNHCR in Egypt are now classed as "severely vulnerable," according to two donor briefing documents seen by Mada Masr. With funding shortfalls and cutbacks, and no tangible end to the Syrian conflict in sight, things could be about to get worse.
The findings, based on a socio-economic assessment carried out by UNHCR, present a stark picture of a Syrian community that is sometimes regarded as better-off and more integrated than Syrians in high-hosting neighboring countries such as Jordan and Lebanon, as well as other refugee communities in Egypt.
While the stated aim of UNHCR's assessment is to better target dwindling funds to assist those most in need, some claim that cutbacks are actually hitting the most vulnerable Syrians in Egypt.
Majority of Syrians 'severely vulnerable'
The two PowerPoint slides, which a UNHCR representative confirmed to Mada Masr formed part of a briefing to donors in September, show the results of the ongoing socio-economic assessment started at the beginning of the year, and explains the methodology behind them.
According to the first document, titled "Results of Survey," 59.65 percent of registered Syrian refugees surveyed (61,683 people, or the equivalent of about 70 percent of the total of registered Syrians in Egypt) are classed as "severe vulnerable." A further 27.72 percent (22,879 people) are classed as "high vulnerable." Results of Survey.pdf
The second document, "SEA [Subsistence Expense Allowance] and Targeting Vulnerability" explains how that vulnerability is assessed — according to a so-called Minimum Expenditure Basket (MEB), a figure that is meant to reflect a "cost and market based expression of [the] minimum needs of refugees in any given country." SEA and Targeting Vulnerability.pdf
The MEB set by UNHCR for Syrians living in Egypt is LE592.40 (around US$75) per capita per month, but the majority live below this.
If a Syrian refugee is classed as "severe vulnerable," they have access to between zero and LE296.20 per capita per month, or half of the MEB. "High vulnerable" refugees have access to between 51 and 99 percent of the total MEB.
This means that close to 90 percent of the Syrians surveyed are effectively living on or below the MEB benchmark of a dignified life set by UNHCR.
Ranghild Ek, who heads the communications team at UNHCR's office in Cairo, says the results show that Syrians in Egypt are "really struggling."
"I think what it shows is that Syrian refugees are really in great difficulties," Ek explains. "People may feel that Syrians in Egypt are quite well-off compared with neighboring countries … But what this assessment is showing is that they have serious problems covering their basic living costs."
At the same time, others organizations working with Syrian refugees in Cairo claim that the way UNHCR conducted the assessment has actually had an adverse effect on vulnerable Syrian families.
Rasha Maati, who heads the UNHCR and UNICEF-affiliated Fard Foundation in 6th of October City, claims that by conducting many of the assessment interviews in its Zamalek offices and assessing people on an individual basis — rather than by family or household — UNHCR actually missed the most vulnerable families.
"It was not an accurate account of those who were surveyed," Maati explains. "If you want to assess someone economically, you have to visit their home on a field visit. You can't just sit face to face in an office and expect to know everything about their lifestyle. Some people exaggerate. Some people don't know how to explain their situation."
Maati adds that rumors within the community spread, claiming that if a refugee was being assessed, their assistance would be cut, leading people to not show up to interviews.
"So families who were not assessed, and ones probably taking cash assistance had their assistance stopped without them even knowing," Maati says, adding that one of the results has been "cuts to the most vulnerable."
Ek acknowledges that some people have been missed and that UNHCR is working to locate vulnerable, isolated Syrian families who may have missed the assessment. At the same time, she reiterates that the purpose of the assessment was to spend money more effectively.
"The assessment is not done to cut per se," she says. "The cuts are being enforced because there was a shortage in funding."
"When there is a certain amount of donor fatigue and funding goes down, the need for stricter and stricter targeting grows," Ek elaborates. "You have to really make sure that those receiving assistance are really those in need."
The fact is, that according to UNHCR's own assessment, most registered Syrians really are in need.
Um Fatma: 'All the people in Beit al-Aela, they need help'
In one corner of 6th of October's Hosary neighborhood, there are stalls stacked with everything from mate drinks and imported olives to freshly made konafa and Aleppo-made soap. Some of the packets of thyme that are sold here read: "Made in Egyptian lands with Syrian hands."
Further out, this relative prosperity begins to fade. Transport links get worse, creating a sense of isolation; microbuses turn into Suzukis, Suzukis to tuk tuks.
The cost of rent drops, and along with it the quality of life and safety. Syrians living in outlying areas like Beit al-Aela and Masaken Othman, probably the most notorious neighborhood in 6th of October City, live in fear of muggings, gangs and sexual violence.
Um Fatma, a Syrian refugee in her 70s who asked for her real name to be withheld, lives alone in a ground-floor apartment in Beit al-Aela. She had been living closer to Hosary until she could no longer afford the rent.
"When I came from Syria, I had US$1,000 and a piece of gold from home. I sold that for LE2,000 and bought the TV, a table and a fridge; then I spent the US$1,000 renting a furnished apartment."
Um Fatma had been receiving a meager pension equivalent to US$50 from her job at the municipal office in her hometown in Rif Dimashq. That stopped over a year ago. She is unable to reunite with her family, who are still in Syria, because of a visa regime introduced in July 2013 which demands that Syrians undergo a security check and obtain a pre-arrival visa before coming to Egypt. In Damascus, fixers and middlemen make that process too costly for the family.
After her money ran out, Um Fatma moved into the sparse flat where she now lives.
"All the people in Beit al-Aela, they need help," she says.
That help usually comes from international and local organizations, like Fard, as savings run out and other sources of support dwindle. Um Fatma was no different — she had been receiving LE500 to help her pay her LE550 monthly rent as well as LE120 monthly food vouchers from the UN's World Food Program (WFP).
Despite all this, and her vulnerability as an elderly woman living alone, UNHCR cut both payments. First, they cut her food voucher assistance — although she says now she's not too upset about that because it was a small amount that could only be spent in more expensive outlets specified by the UNHCR.
But crucially, UNHCR also cut Um Fatma's LE500 monthly rent assistance. Too old to work and with little money left, Um Fatma says she went "begging" at UNHCR's head office.
"I told them I just wanted them to book me a flight to Syria. I told them they'd kick me out of my house and I'd be living on the street," she said. "I don't have anyone in Egypt. I don't have any means to live. Who will pay my rent?"
After a month without financial support, UNHCR reinstated Um Fatma's rent assistance.
Abu Mohamed: 'Waiting to have money to leave'
Abu Mohamed has been living in the same neighborhood with his wife and three-year-old son since he fled the Damascus countryside in 2012.
Mada Masr has met Abu Mohamed several times over the past 18 months. Each time, he says he will take a boat. But, like more and more people in the Syrian community, poverty and economic instability means that's an increasingly distant possibility.
"Most of the Syrian people, once they have money, they're gone," Abu Mohamed told Mada Masr. "The rest are waiting to have money so that they can leave."
They do not have the money to travel together with their three-year-old son, who is silently meandering from wall to wall on a toy car while his parents speak.
"Most people that left Syria had a car or a house or something that they sold and then they left. People borrowed money as well," Abu Mohamed says. "But us? We didn't have anything to sell. My house in Damascus was destroyed. I don't have anything."
The flat here costs about LE600 a month and Abu Mohamed is now making around LE1,000 a month working from home on his computer. They also receive food vouchers worth LE120 each.
Although Abu Mohamed's current salary is effectively double UNHCR's MEB for Syrians in Egypt, it doesn't mean the family is living comfortably. His story is typical of the chronic instability of refugee life in Egypt.
Abu Mohamed worked for a Syrian organization in 6th of October, but was suddenly laid off a few months ago. Not long after, he was mugged at knife point while he was riding a microbus home, losing his phone and the cash he had on him.
After losing his job, Abu Mohamed had no way of providing for his family other than UNHCR assistance. In the terms of the UNHCR classifications, he had dropped two vulnerability brackets in the space of a day. And he fears that could happen again.
"There's no stability here. The future is hopeless."
Abu Mohamed's rent assistance was cut about six months ago, although he and his family still receive LE120 each in WFP food vouchers.
UNHCR has said it has received more than 5,000 appeals against cutbacks, and has reinstated up to 2,800 people on the food voucher program.
However, when contacted by Mada Masr, UNHCR refused to reveal the total number of registered Syrians who had been cut from assistance.
The WFP was unavailable for comment.
The socio-economics of diaspora
Until now, one of the most extensive, statistics-based studies of Egypt's Syrian community could be found in a September 2014 report by Maysa Ayoub and Shaden Khallaf for the American University in Cairo's Centre for Migration and Refugee Studies (CMRS).
Based on a 310-household survey, focus group discussions and in-depth interviews with Syrian community figures, conducted in three stages between May 2013 and May 2014, the report surveyed various aspects of Syrian refugees' lives — including access to work and socio-economic conditions.
The study found varying monthly expenditures for Syrian refugees in Egypt. Just over 11 percent reported spending between LE200 and LE1,500 per month — the closest socio-economic bracket to UNHCR's current MEB. The largest group, 33.6 percent, reported monthly spending of between LE1,600 and LE2,500, followed by 29 percent who reported spending between LE2,600 and LE3,500.
This might suggest that these better-off Syrians either left Egypt or people have simply become poorer as time has gone on — something that UNHCR's Ek also acknowledges.
"Some [Syrians] may have come with savings, which they don't have anymore," she says. "As their time in the diaspora gets more and more extended, their situation gets worse."
Maati at the Fard Foundation agrees, calling the perception of Syrians in Egypt as better-off "an old cliché."
"People have been here for four years and they know that they're spending their money on a daily basis," she says. "The old savings have already been spent."